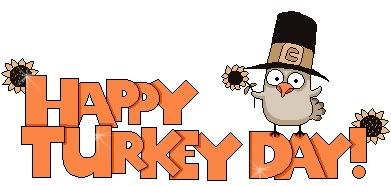 Happy Birthday to each & every one of you!
What? You say it's NOT your birthday?
But it's
TURKEY DAY
, isn't it?
So far, I've baked a Pecan Pie, a Pumpkin Pie, Ghiradelli Brownies, and made Peppered Glazed Pecans. Yummy, no? My mother is doing the turkey, a pork roast, twice baked potatoes, and all the yummy stuff that goes so well with Thanksgiving. My boss is bringing German Cucumber Salad..
~~scrreeeeeech!!!~~
MY BOSS??!!
yep. You read that correctly. My Boss. Am I the biggest
KISS ASS
in the world or what?! Actually - you guys (that read me regularly that is) know that my boss is pretty cool. She had been planning on going to Denver for Thanksgiving, when her daughter was informed that "she will work Thursday night or be fired". So. They decided to stay here. Which leaves just the two of them by themselves for the holiday. Now - everyone knows that Thanksgiving is supposed to be a huge riotious affair with big gatherings. I can provide the riot with my kiddos alone. Anyhoo - we invited her to come, and she IMMEDIATELY accepted. I kinda thought she would politely decline - since she'd already bought her turkey and all... but she and her daughter jumped at the invitation. So I'm glad! And you guys can call me an ass-kisser all you want. I don't care (much).
Have a SAFE holiday everyone. When you return from whereever you are going for Thanksgiving - I demand a roll-call so that I will know that each and every one of you is safe and accounted for.
I'm serious.
~Norman!